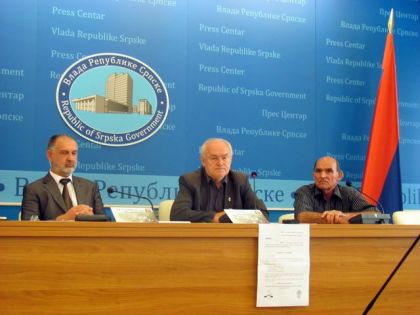 Zoran Blagojević, Nedeljko Mitrović i Zdravko Jorgić at a press conference
A horrific crime which has all elements of genocide was committed against Serbs on Mt Ozren but unfortunately, no one has yet been prosecuted for them, says Nedeljko Mitrovic, the head of the Association of Families of Detained and Fallen Veterans and Missing Civilians of Republika Srpska.
"No one in Bosnia and Herzegovina has yet been brought to justice for those crimes, except for the deceased commander of the so-called Army of BiH, Rasim Delic, who was sentenced by the Hague war crimes tribunal to three and a half years in prison," Mitrovic told a press conference in Banjaluka marking International Day of the Disappeared, August 30.
Mitrovic that neither the commander of the Army of BiH 3rd Corps Sakib Mahmuljin, nor Sefik Dzaferovic or many others today engaged in politics have answered for the Ozren crimes.
Mitrovic asserts that fallen persons' families from Republika Srpska are dissatisfied with the work of the BiH Missing Persons Institute and International Commission on Missing Persons (ICMP) in the search for missing Serbs, and also with the work of the BiH Court and Prosecutor's Office regarding the prosecution of war crimes committed against Serbs, which is why they support the announced referendum on the two institutions.
Mitrovic recalled that after the war, the two former entity commissions in charge of searching for the missing and international factors had agreed to share information on the fallen, detained and missing persons in Srebrenica and on Mt Ozren.
"Republika Srpska had provided all information on the Bosniaks killed in Srebrenica and has not received any information in return from the Federation of BiH on the Serbs killed on Mt Ozren.
"There are 11 mass graves of Serbs with approximately 140 bodies on Mt Ozren. The most striking case is that of the village of Gostovici where 53 Serb veterans were massacred by the Mujahideen, with only 12 bodies so far recovered and identified," said Mitrovic.
On Mt Ozren, 459 Serb soldiers were detained, 49 of them were exchanged, 271 were identified and 131 are missing.
Republika Srpska is still searching for 1,676 veterans and civilians, while the three ossuaries in Srpska contain 657 recovered unidentified earthly remains.
Mitrovic said that the International Day of the Disappeared will be marked near the St Nicholas Monastery on Mt Ozren on August 30.
A memorial service will take place at 11 am near the memorial cross, followed by a flower laying ceremony and addresses by officials.
Zoran Blagojevic, the head of the Association of the People of Zavidovici, which is seated in Doboj, recalled that on September 10, 1995, the Army of BiH assisted by the infamous El Mujahid Squad carried Operation Hurricane in Vozuca, including 23,000 Muslim troops.
The toll was 415 dead Serb soldiers, and 137 still missing, while 7,500 Serbs were expelled and 30 villages burnt to the ground.
"Twenty years ago a horrific crime was committed in Vozuca that a human mind cannot grasp – ritual murders including beheadings committed by the Mujahideen," said Blagojevic.
"It is unbelievable that Sakib Mahmuljin and his subordinates have not been brought to justice for this crime. Neither has Sefik Dzaferovic
"We will not stop until we find all 137 missing persons and until all those who took part in the crimes or silently watched it carried out are brought to justice," said Blagojevic.
The Vozuca Association will organise a march down the paths of exodus and go Stog on September 10 to attend a memorial service to the victims.
Zdravko Jorgic, the father of a fallen student, veteran of the Army of Republika Srpska on Ozren, has told reporters that 20 years after his only son went missing, every day in his life gets harder and harder because it passes in hope of his son returning.
"You can't forget it. May God help me to find at least one bone that belonged to my son so I can bury him and visit his grave and light a candle in his memory," said Jorgic.
Source:

Vezane vijesti:
POZIV NIKOLIĆU I VUČIĆU DA PRISUSTVUJU MARŠU "STAZAMA EGZODUSA
U NAREDNIH MJESEC DANA PRVI REZULTATI IDENTIFIKACIJE
KEBO: VISOKI ZVANIČNICI PREĆUTALI ODRUBLjIVANjE GLAVE SRBINU
TUŽILAŠTVO BiH NAGRADILO MUSLIMANSKE EKSTREMISTE
Ozren – Vozuća – Jadovno 1941.