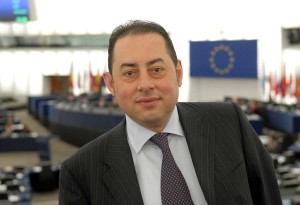 BRUSSELS, 23 MAY/SRNA/ – First Vice-President of the European Parliament Gianni Pittella said that among issues still not defined in the accession negotiation between the EU and Croatia are some sensitive concerns, such as war crimes and full cooperation with the International Crimes Tribunal, return of refugees and the full application of the non-discrimination law.
"I am sure that the European Parliament will take into serious consideration the outcome of the negotiations in these areas before delivering its final conclusion", said Pittella in a reply to a letter from President of Association "Jadovno 1941" Dušan Bastašić in which he informed Pittella that in Croatia there is no respect to basic human rights of descendants of the victims, nor the respect for the victims themselves who were murdered by Croatian Ustashas 70 years ago.
Pittella says that he read Bastašić's letter with great interest and sincere sharing spirit for the ancient and recent sufferings of the Serbian people in Croatia.
"I am convinced that no important step towards reconciliation and a common future among people can be achieved without a serious effort to seek the truth and to preserve the memory of war and conflicts victims, like those mentioned in your letter. Of course, this effort will produce more positive results if all involved parties will share the desire to close the dark page of the past and work together for a mutual understanding and for peace", says Pittella in a letter forwarded to the Serbian News Agency (SRNA).
He concludes the Croatian authorities have to make a clear and greater effort to improve this area.
"And also for this reason the currently on-going accession negotiations between EU and Croatia have not achieved a conclusion yet. According to the latest European Commission's report, the chapter concerning justice and fundamental rights seems still deserving of consideration", states Pittella.
He says that in the coming days he is going to take contact with those colleagues who are responsible for this dossier to inform them about Bastašić's letter and the willingness to provide more information.
Bastašić recently sent a letter to First Vice-President of the European Parliament Gianni Pittella in which he pointed out that after the genocide committed over the Serbs from 1941 to 1945 and the one repeated from 1991 to 1995, with the current condition of human rights in Croatia, there are almost no descendants of the victims of the genocide in Croatia.
"The message that EU Member of Parliament Roger Helmer openly sent to the Croatian authorities from the EU Parliament floor raises hope for the Serbian people from Croatia, who were forced into exile, robbed and deprived of their rights, that Europe will 'open its eyes' and that the great injustice that has been done, will be, not just brought to light, but corrected", states Bastašić.
He reminds us that the murdered Serbs were not members of any military units, but ordinary, innocent civilians, murdered from 11 of April to 20 of August, 1941, almost one year before camps Auschwitz and Treblinka received their first inmates.
"In the area of the Lika-Senj County, at the location of the Gospić complex of concentration camps, the first liquidation centre for Serbs and Jews in the Independent State of Croatia, the murdered victims still lie in open karst pits. In just 132 days, Croatian Ustashas murdered 40,123 people in that area", writes Bastašić.
He claims that many of the victims, some even young children, after being struck with a mallet or a knife, were thrown half-alive, headlong into the pits of Mount Velebit from where one could hear their death screams for days, and many of them were murdered on the rocky terrain of the island of Pag or thrown into the sea with rocks tied to their necks.
"While the German fascists murdered their victims in "an industrial way", Croatian Ustashas did it in the most bestial ways by throwing them into pits and establishing children camps, something not recorded in history. Their bodies still have not been exhumed, identified by DNA analysis and buried, not even after 70 years."
He stresses that the places of their suffering have been overgrown and there are no roads or road signs leading to them.
"We cannot consider the pits filled with the bones of our murdered relatives to be graves, because graves are places where we bury our deceased. Civilised European nations, who share universal moral and human principles, should not close their eyes before such an obvious criminal act", writes Bastašić.
He states that the fact remains that on the territory of today's Croatia there are known crime sites and that the bodies of victims of that crime have not yet been exhumed or identified.
"Is Croatia going to join the European community of nations with open pits full of murdered people", asks Bastašić in a letter sent to Pittella.
By: Darko TERZIĆ
Source: