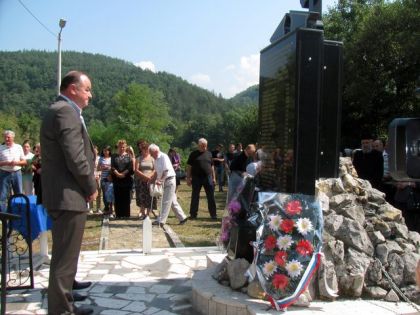 Commemoration at Kukavice, near Rogatica



A memorial service was held in Kukavice near Rogatica on Thursday honouring 26 Serb civilians killed in an ambush on August 27, 1992 by members of the so-called Army of BiH while fleeing the Muslim offensive in Gorazde.
The oldest victim was Tankosava Gavrilovic, 82, while the youngest one was Milan Djurovic, who was only a few months old.
Dragisa Andric, the head of the Regional Association of Camp Detainees from Visegrad, has said that the horrific crime occurred in the canyon of the river Rakitnica in Kukavice.
He pointed out that a much graver crime was committed against the Serbs in Gorazde, where more than 250 civilians were killed while many were taken to prison camps where they were subjected to horrendous torture.
Andric cited an example of the camp Mujkovica polje, where more than 50 Serbs were detained and only two survived.
No better fate struck the ones detained in the camp Stamparija in Vitkovici and in the former ZOIL building in Gorazde, as well as the local police station jail.
Andric noted that of the 159 missing Serbs from Gorazde, more than 90 civilians were still searched for by their families.
The memorial service near the memorial in Kukavice was held by priests of the Serbian Orthodox Church.
Wreaths were laid by a joint delegation of the municipalities of Rogatica and Novo Gorazde, veteran associations from the two municipalities and from Visegrad, the Regional Association of Camp Detainees, and victims' families.
Source:
Vezane vijesti:
Kukavice kod Rogatice – Jadovno 1941.
KONAČNO ISTRAGA U PREDMETU "KUKAVICE" – Jadovno 1941.
SVJEDOCI GOVORILI O ZLOČINU U KUKAVICAMA – Jadovno …
Optužnice za zločin nad Srbima u Kukavicama – Jadovno 1941.