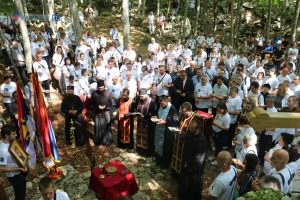 ZAGREB, July 2 (Hina) – A Banja Luka-based association of descendants of the victims of the World War II, Ustasha-run death camp Gospic-Jadovno-Pag, on Saturday organised a commemoration for the camp's victims. Attending the event  was also the Serb member of Bosnia and Herzegovina's collective Presidency,  Mladen Ivanic.
Ivanic told reporters that victims should be remembered and respected and that crimes like those at the Gospic-Jadovno-Pag death camp must never happen again.
"I didn't come here to make a political speech, I came just to pay tribute, bow to the victims so that they are not forgotten, and I can't believe that commemorations like this can cause divisions. Those who interpret this as a contribution to divisions have a major problem," Ivanic said when asked if divisions in society were deepened by commemorations like today's.
The commemoration at Saran's Pit, one of the execution sites of the death camp, was secured by the police, who prevented any contact between its participants and opponents of the commemoration, members of Croatian Homeland War volunteers' associations from Rijeka and Bilaj, who gathered nearby.
Mile Biondic, leader of the Rijeka association of Homeland War volunteers, said at a news conference on June 29 that volunteers most strongly condemned the organisation of commemorations by the Banja Luka association, claiming its president Dusan Bastasic had been distorting history for years, glorifying the Chetnik ideology and accusing Homeland War soldiers "of continuing the 1941 genocide."
Speaking at today's commemoration, Bastasic said that neither he nor any other participant in the commemoration were Chetniks and that the purpose of their visit to some of about 30 pits in the former death camp was to put up crosses at the execution sites "so that it is not forgotten that the karst pits still hide the remains of at least 40,123 people, of whom 38,010 were Serbs."
He said that Croatian speleologists entered Saran's Pit in 1963 and discovered in it a 1.45 metre high skeletal sediment covering an area of 54 square metres.
He said that some 20 years ago the Serb Orthodox Church established a committee for the WWII Jasenovac concentration camp whose mission as of recently also included other execution sites. The committee wants those sites to be marked with crosses, it wants research into the suffering of the Serb people at the time of the Independent State of Croatia to be expanded and victims' remains to be buried in a Serb Orthodox crypt, Bastasic said.
Bastasic said that a few years ago the Croatian government adopted a decision on the exhumation and marking of WWII graves, noting that places of suffering of the Serb people were not given the same treatment as places of suffering of the Croat people.
Croat victims are exhumed publicly while exhumations of some pits with remains of Serb victims are not given media attention, said Bastasic.
We do not know where the remains are taken, no one informs Serbian or Bosnian Serb authorities or us, the victims' descendants, of that, said Bastasic.
"We do not want to politicise this issue but rather make known that dark chapter in our personal and national histories, we wouldn't dream of rubbing salt into other nations' wounds, in the wounds of the Croat people who has also suffered, however, our victims' pits cannot be called graves because they are not graves. Serbs mourn their dead every year by karst pits on Mount Velebit… but we would like to be able to do so by a crypt in our church," said Bastasic.
He thanked Croatian authorities for allowing for the third consecutive year the prayer gathering at Saran's Pit and other locations in the former death camp complex.
"There are people who believe that these horrors did not happen, who act inappropriately and claim that the pits contain garbage, that we manipulate the victims in the name of a Chetnik ideology… but I am not a Chetnik and what they do is humiliating the victims, which is the reason the Croatian police are protecting us and they are doing it very professionally," said Bastasic.
The association of descendants of the victims of the Gospic-Jadovno-Pag death camp put up a 2.5 metre high cross at Saran's Pit and another one at a location some 20 kilometres from Saran's Pit, where a Serb Orthodox bishop was killed.
Some 300 people attended the commemoration at Jadovno.
Jadovno Remembrance Day has been marked for seven years and since 2013 it has been part of the Bosnian Serb entity's calendar of important historical events and has been commemorated with the support of the entity government.
(Hina) rml
Jadovno: Dan sjećanja na Jadovno 1941. u organizaciji banjalučkog udruženja