How did the Independent State of Croatia come to be, what was its character and who decided on life and death? Why was the Slana Camp on the island of Pag named "the hell in a rocky desert", how were numerous karst pits on Mount Velebit used in the summer of 1941, why there were no children on Mount Kozara years after the Second World War, and whether the strongest impression is from the "mountain of dead in the plains of Slavonia", the name some people gave to Jasenovac? These are the questions that a three-part documentary film of the Radio and Television of Serbia (RTS) "Independent State of Croatia – Fear", "Independent State of Croatia – Abyss" and "Independent State of Croatia – Silence" deals with.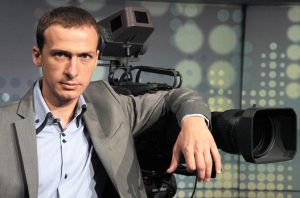 A RTS team visited the location of the former Jadovno Camp on the Velebit, Slana Camp, Jasenovac Memorial Area in Croatia and Donja Gradina in Bosnia and Herzegovina, i.e. the Republic of Srpska, as well as the Memorial Museum "Yad Vashem" in Jerusalem, world's most famous institution dealing with Holocaust research. The film also talks about the role of the Roman Catholic Church and Archbishop of Zagreb Alojzije Stepinac, about the attitude of the socialist Yugoslavia towards the events from the Second World War, about the attitude towards the NDH today, about numbers, and about in what way we should remember the victims of the NDH.
Documentary film
The film, inter alia, features: Director of "Simon Wiesenthal" Centre from Israel Efraim Zuroff, author of films "Blood and Ashes of Jasenovac" and "Testament" director Lordan Zafranović, historians from Belgrade and Zagreb – Ljubodrag Dimić, Hrvoje Klasić, Josip Jurčević, Đuro Zatezalo, Bosnian Franciscan monk Marko Oršolić, publicist Slavko Goldštajn, descendants of Jadovno victims – Boris Begović and Dušan Bastašić, as well as people working at the Jasenovac Memorial Area, Donja Gradina and the Museum of Genocide Victims.
The most harrowing part of the film is testimonies of surviving camp inmates from Jasenovac, as well as from children's camps Jastrebarsko and Sisak.
Author: Stevan Kostić
Editing: Goran Mijić
Camera: Aleksandar Agbaba
Sound: Saša Pribaković
Narrator: Dušan Radulović
Journalists: Dragana Ignjić, Milica Jevtić
Consultants: Dejan Ristić, Jovan Mirković
RTS Newsroom Editor-in-Chief Nenad Lj. Stefanović
The first episode was aired on Tuesday, 20 September 2016. at 9pm, the second one on Wednesday at 9pm, and the third on Thursday at 9pm.
Sorce: RTS.rs