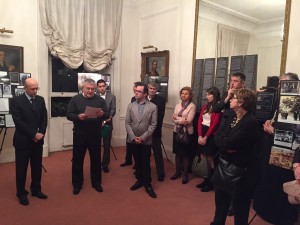 Dušan J. Bastašić speech at the opening ceremony of "Prebilovci" exhibition in Serbian Embassy in London at Jan. 27. 2016.
Your Excellency, ladies and gentlemen, dear friends,
I greet you on behalf of the Jadovno 1941 Association from Banja Luka and the association Prebilovci from Belgrade.
I wish to thank Ambassador Ognjen Pribičević and his team on their hospitality and the opportunity to put up another exhibition here after two years.
This project was helped by the Novi Sad Cultural Center and the Ministry of Foreign Affairs of Serbia, but also by Mr Aleksandar Simić and his family with his unmeasurable contribution.
I am especially happy that here tonight with us is Mr Nemanja Dević, a young, brilliant historian from Belgrade who works very hard on researching and revealing one hidden and unknown part of our history during the Second World War. With us here is also Mr Aleksa Dragićević with his wife, a resident of Prebilovci and a descendant of the victims.
We present to you the "Prebilovci" exhibition, a presentation that will for some of you be the first time you hear about this village in Herzegovina.
That is the reason why we believe that this exhibition serves to reveal the truth about the suffering and resurrection of Prebilovci.
Today it is St. Sava's Day, but also the International Holocaust Remembrance Day.
I am especially thankful to gentlemen from the Board of Deputies of British Jews for being here with us, since this is an opportunity for them to familiarize with a part of almost unknown history of the suffering of the Serbian people.
We should not be surprised that 75 years after the annihilation of the Serbs from Prebilovci people do not know almost anything about it. We did not learn it in school, and children in Republika Srpska still don't until this day. There is no Prebilovci in "this day in history" sections, there are no school excursions, there is no Museum of the Victims of Prebilovci.
There is none of it, and there should be.
Within our national corps, the Serbs from Herzegovina are prominent and lead in many aspects. One of their especially commendable characteristic is their attitude towards their ancestors and family members that suffered. They raised the bodies of their murdered family members from the darkness of the abyss and buried them in a magnificent Temple of the Resurrection of Christ.
While struggling with enormous existential and life problems, surrounded by descendants of mostly unpunished criminals, stubbornly surviving in the places where their ancestors had been living for years, in the places of centuries of suffering, falling and rising, they took care for their innocent murdered family members, before they took care of themselves.
And that is why we need to help them. Both institutionally and individually.
This exhibition is the contribution of the Jadovno 1941. Association to that very mission.
The central focus of this exhibition is the victim but also their descendants. Because the descendants are victims too.
While we do not know even a letter from most of victims' names, thanks to the dedication, enthusiasm and sacrifice of Milenko Jahura and the Prebilovci Serbian National Society we have so much more for these victims from Prebilovci and surrounding villages.
I personally find the photographs of the victims taken several years before or just before the suffering to be most striking … the faces… the eyes.
The eyes of teacher Stana Arnaout speak as with reproof: "Do not forget us."
Tripko Ćirić who was killed together with his wife, nine daughters and a son, speaks with a gentle, benevolent smile:
"You did not forget us."
The faces of Serbian householders, villagers, farmers, as if chiseled, send a message: "Take care, children. The evil is alive. It is near. Those who forget it, it repeats for them"
Our total social and national attitude towards the Serbian civilian victims killed by the units and population of the Independent State of Croatia is almost unprecedentedly irresponsible.
Not only did we fail to make a list of our victims, but also we failed to give a proper burial for most of them. They still lie at the bottom of karst pits, covered up, with grass growing on top of them at the places of their suffering, covered with tarmac roads, with foundations of houses and buildings.
This exhibition comes quite late. It should have been here in ninety fifties (1950-ties). However, recently, a year ago, the idea to make an exhibition about Prebilovci, was not born in institutions or in the heads of national strategists or historians, but in the souls of the descendants of the Serbian victims who were killed by the Independent State of Croatia, gathered around the Jadovno 1941 Association and the Prebilovci Serbian National Society.
Those who do not learn, things repeat to them. Prebilovci are a painful example.
The Serbian people suffered a lot in the twentieth century, so it is now no wonder that there are increasingly more organisations gathering descendants of victims without waiting for political will and the right moment, not caring for political correctness, working as volunteers almost as a rule, doing everything they can to preserve the memory and write a lesson on the suffering of their family and homeland, to testify about the annihilation of their Orthodox brothers.
It is a devastating fact that in textbooks in Republika Srpska there is not a single word about Prebilovci, about Jadovno, about camps on Pag, about Garavice, about pits in Livno, Herzegovina and on mountain Velebit, about the churches in Sadilovac and Glina, about the suffering of Serbs in Podrinje. There is also nothing in textbooks about Donja Gradina, the largest part of the Jasenovac complex of camps.
At the same time, our children learn in detail about landings in Normandy and the war in Northern Africa.
Those who do not learn, things repeat to them. Prebilovci are a painful example. This exhibition is only a pebble in the process of adopting the truth about the Serbian suffering in the Independent State of Croatia into our permanent memory.
If we continue to be so historically and nationally irresponsible, there is a real danger that the evil history will repeat itself to our children, our descendants. Along with the Church, several published books, websites and this exhibition, we need to build a Memorial Center in Prebilovci with all facilities that similar centres across the world have.
Moving towards that goal, with donations, Jadovno Association acquired one house of suffering, destroyed in the last war and we are currently obtaining necessary permits and documents to raise a Memorial Centre currently named "Prebilovci House".
Our house will be a place that will, along with the central Archives and Library of Prebilovci, also have a museum, gallery and educational area as well as accommodation for scientists, but also for artists of all types who will create here, charging their senses with all the wealth this holy place and the soil of Herzegovina offer. The Prebilovci House will also be a place of socializing for the descendants of Serbian victims of genocide committed by the Independent State of Croatia, but also a vital facility for initiating all kinds of renewal in the village.
We cannot realize this very demanding but also God-pleasing project by ourselves, but we are deeply convinced that Serbs all over the world, Serbian institutions, and finally international organizations that cherish the culture of memory will recognize its importance and help make it happen.
I invite you to give your attention to this exhibition, but I will not invite you to enjoy it, because it evokes some completely different feelings.
The feeling of sadness, feeling of guilt, responsibility, helplessness, feeling of great tragedy.
Thank you.
Truth about suffering in Prebilovci presented to British public