Beeb reports a half-story on breakdown in Serbia-Croatia relations. It's not quite fake news. Neither is it the full news.
A BBC report says that that Serbian prime minister Vucic has cut short his visit to Brussels in protest. He told reporters that Croatia had blocked Serbia's accession to the strife-laden union. Serbia's Foreign Minister Ivica Dacic said, "If Croatia is the one to decide if Serbia becomes an EU member, then I have suddenly lost interest".
The BBC article hinted at the imbalance between Croatian and Serbian influence in Europe. Croatia joined the EU in 2013 and is now able to block newcomers like Serbia. (In return, the BBC fears the nation will nudge ever closer to her Orthodox ally Russia.)
The only mention of a specific incident to justify Serbia's angst was a dispute over chocolate bars. (The Croatian President felt it necessary to apologise to Croatian kids for giving them Serbian candy.)
The ominous return of the pro-Nazi Ustasha in the rhetoric of today's political elite in Zagreb is dismissed by the BBC as a revival by "Croat nationalists" only.
Yet the President herself was snapped smiling in front of a flag from the Independent State of Croatia – the pro-Nazi Ustasha regime responsible for genocide against hundreds of thousands of Serbs, Gypsies and Jews. (Apparently she wondered what the fuss was about.)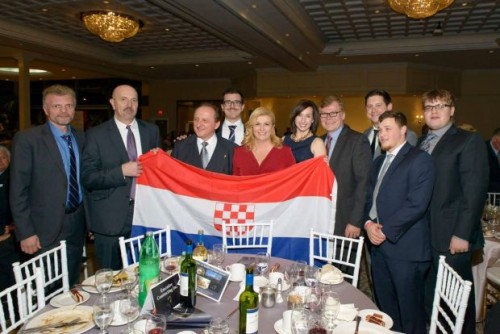 Compare that photo to the cover of magazine Der Spiegel, which pictured German Chancellor Angela Merkel smiling with Nazi officers. This image was heavily Photoshopped to pose the provocative issue of what other Europeans think of Germans. Would the BBC have missed the story if Merkel was really taking a selfie in front of a swastika?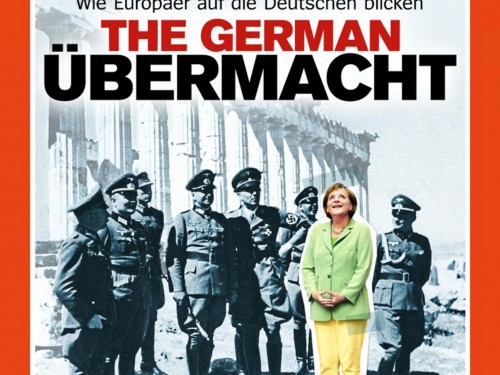 The BBC also missed other grisly clues in today's Croatian regime.
The current Foreign Secretary is one Davor Ivo Stier, the grandson of an Ustasha colonel who served as the right-hand man of the commander of death camp Jasenovac. (He escaped justice by fleeing to Argentina, where Stier was born.)
A plaque with fascist slogans was recently installed by Croatian war veterans close to very same death camp. Little wonder that Serbs are deeply suspicious of the secretive exhumations of WW2 victims by Croatian authorities this month.
Earlier in the year, Croatian and Kosovo Albanian football fans were fined when they united in race hate, chanting in unison "Kill the Serb".
Thousands of academics, including the president of the Croatian Ethics Court, signed a petition to urge that "Za dom spremni" be included as the salute in the Croatian armed forces. (The phrase was the slogan of the Ustasha criminal regime and is equivalent to "Heil Hitler".)
Few criminals of the 90s are prosecuted and, when they are, their convictions have been overturned in Zagreb.
If you think the BBC has got it wrong, why don't you send in your complaint?
http://www.bbc.co.uk/complaints/complain-online/
Read the original article on the BBC site:
http://www.bbc.co.uk/news/world-europe-38301558
Izvor: BRITIĆ