Old man Pavle Babac, whom we mentioned before and who studied the tragedy under Velebit, gives us a couple of very shocking pages regarding the destruction his fellow villagers from the Tribanj Šibuljine area. Late Babac collected all testimonies in a book named "Slopes of Velebit, 1941 – 1945", published in Belgrade in 1965. Here we will use parts of his book in order to inform the reader about the misfortune of poor inhabitants of these villages who were mostly taken and executed in Slana.
I knew uncle Pavle as a responsible man weighing every word, and in this book I can see how he checked each sentence for hundreds of times. That is why I am using him as a witness who himself survived the rocky desert of Slana. This passage is in his memory and to show my gratitude!
Village Šibuljine, approximately 20 kilometres south from Karlobag is inhabited mostly by Orthodox Christians. It was a thorn in the eye of few Ustashas from the area and already in April on two occasions they took ten of their neighbours and executed them in Jadovno. The main organiser was Ustasha official Jurica Frković and executors were Mile Sjauš and his comrades. Ventura Baljak, also known from Slana, on the very coast and in front of people cut the throat of his friend Jandro Čavić with a bayonet. Only one-armed Serđo Poljak managed to survive by crawling out of the pit in Jadovno and escaping.
In May 10, General Amrozio, Commander of 6 Army Corps, sent a telegram from Split to the Commander of 5 Army Corps located in Crikvenica informing him that crimes were happening in his area: "Gangs killed 10 people in Šibuljina, set fires and robbed. Part of the population escaped to Zadar."
But this telegram was in vain. After the agreement between Italy and the NDH was signed in Rome on May 18, 1941, Italian troops became 'allies' and friends to Ustashas, and General Ambrozi had no intention of doing anything to protect some villagers who were also his burden. On the contrary, this will create good basis for his interests! He deployed his troops so that people wouldn't attack Ustashas and he refused to see crimes committed by them on Serbs, Jews and communists right next to his barracks.
Ustashas came organised on August 2, on early Saturday morning and surrounded Šibuljine. They collected all people that hadn't managed to escape and around noon they locked them up in the St. Archangel church. They locked families with children, around 100 of people, in 50 square metres and in scorching heat. In the mean time, Ustashas stole meat and drinks and had a binge around prisoners in the church. At the same time, everyone who managed to escape was running away from the village in boats or rafts or by climbing Velebit.
Uncle Pavle researched and described in detail this savage crime and we give you his description:
"The next day, on Sunday August 3, Ustashas continued with cursing and insulting the holiday[16] and the church. One of the loudest was Ustasha Jozo Trošelj. He entered the church and tore church banners with his knife and cursed and spat on church icons. But when he slapped Božo Marinković the man jumped on Trošelj and knocked him on the floor. The rest of the people begged Božo not to kill him, still believing their lives would be spared.
Trošelj immediately called Mile Sjauš and the guards to take Marinković out of the church. Outside you could hear dull pounding of a stake, shouting and cursing. After half an hour they brought Božo in covered with blood. He was unconscious and his jaw and right arm were broken. When he regained consciousness he couldn't speak, but only whimpered in severe pain.
From all the nervousness and fear teacher Ljubica miscarried her baby and women took it and covered it tearing pieces from their modest dresses. At first the newborn did not cry, but the next day, hungry and dirty, it screamed all the time. Ljubica constantly shouted to let her out with the infant. This made everyone in the church so nervous that Ustashas were forced to take the mother and child out.
On Monday, August 4, the mother and child were boarded on a small boat and taken to Starigrad. It seemed that they would really take them there. But when Ustashas reached Sveta Trojica (Holy Trinity) at the cemetery in Šibuljina, they disembarked and took the mother and child to the chapel. They shot the mother in the head with a revolver and murdered the child hitting it with rifle butts. Although Ljubica was still alive, Ustashas raised the cover of the nearest grave in front of the chapel and threw both Ljubica and the child inside. One could hear whimpers of this woman buried alive for a long time. Severely wounded, she was too weak to lift the heavy stone cover. After the war her body was found with arms stretching and head turned to the opening of the grave, as if she was asking for help and salvation before she died."
We will complete Pavle Babac's text, in order to have a better view on the events, with the text by Milica Babac, daughter of late Andrija from Tribnja, age 21, who testified in front of the County War Crimes Commission of the County People's Liberation Board in Zadar, number 772/45, document number 36, Archives of Croatia):
"The night before St. Ilija in 1941, 4 gendarmes, who were stationed in Tribanj, came to our home and told us that we had nothing to worry about and that we can go on with our work peacefully, and that they will then send us to Italy together with the rest of the villagers who escaped. They told us this in order to catch us more easily. This happened in our cattle pens on the mountain. The next morning around 7am, I was going back home from the pens together with my brothers and sisters. Not far from the pens we saw two Ustashas, and another two a bit further. They told us that we could go back to our homes by the sea freely and that we should tell that everybody else who escaped to the mountain. Later on we came across a larger group of Ustashas, around 20 of them, and I immediately started running, but one Ustasha caught me. This group took us in the mountain at Aleksa Babac's place where Ustashas already brought many our villagers with cattle. I knew what would happen so when I came to this spot I tried to throw myself into a well, but one Ustasha prevented me and told me I had nothing to fear. Amongst the villagers were women, old men and small children. My uncle Dmitar had weak legs, since he was 78 and old, and they pulled him by his beard when he couldn't walk. I saw that when Ustashas were taking us from the mountain towards our village around 11am. At the same time I saw how they beat up Maksim Poljak with their fists. There were around 70 of us. When we came to about three kilometres from our church I took an opportunity and jumped over a wall and escaped. I hid in a pit for two days and on the third night I got out and went over Velebit. So for five days I hid in pits and moved during night until I came to Obrovac. When I first escaped while they were moving us to our village I was alone, but later on fifteen of us who managed to escape got together and we hid in the same pit for two days. When we came at one kilometre from Obrovac after 7 days we stopped at the Zrmanja River and we didn't dare to cross the bridge, because it was guarded by Ustashas. We decided to swim across and to pull with ropes those who couldn't swim. While we were talking we saw Ustashas running towards us. Two of us jumped into the river and swam across, while the rest of us started running. One of the two was Marko Poljak, who was later on killed by Italians, and he was carrying a child on his back. While running from Ustashas we cried for help and civilians in Obrovac heard that and informed Italian troops who were sent immediately and Ustashas pulled back. We then came to the bridge and a civilian took us across the river in a boat, since the bridge was destroyed. I stayed in Obrovac for 11 days and then we were moved to Zadar with one hundred people from Lika. While I was in Obrovac Ustasha Ante Brajin told me that I had managed to escape Ustashas in Tribanj, but that I will not escape here in Obrovac."
(We continue quoting Pavle Babac):
"In order to calm the prisoners in the church they gave them some boiled potatoes without any salt. That was the first food since Saturday morning. There were a lot of people coming from neighbouring villages to see for themselves this crime. They begged Ustashas to release them, to give them food, or at least let the children go, but all in vain. Not even the interventions of Catholic priest from the neighbouring villages helped. Don Lovro Dražić from Kruščica and don Anto Hadžija from Starigrad (later on a member of the People's Liberation Movement – NOP) tried to have the villagers of Šibuljina released from prison.
On the same day, Ustashas suddenly brought in another prisoner, Todor A. Babac who reported himself in to be together with his wife Smilja and young son Đuro, who were already in the church. This noble sacrifice and loyalty to family at the price of life is really a rare example.
Tomorrow morning some list was made in order to deceive and calm the prisoners, so that they would believe they were going to work somewhere and their lives would be spared. On that list, along with names of people arrested in Divoselo, there were 84 people from Šibuljina, 43 male and 41 female, 18 of which were children from age 1 to 17."
Statement by Ana Lukić:
"Witness: Ana Lukić, wife of Mile, born in Tribanj, Starigrad municipality under Velebit, Benkovac county, permanent resident of Tribanj (Šibuljina), age 43, occupation housewife, ethnicity Croatian, relation to the victim: ______________, relation to criminals: _____________________, relation to NOP: ________________, gives the following statement:
On August 1, 1941, around 8am one of the Ustashas came to my house holding a chain in his hand and asked if I had any Serbian books in the house. He looked around the house for a while playing with the chain, and then left the house. I suspected something bad was to happen, so I decided to run away, but did not dare to do it immediately because the Ustasha was still outside my house, watching me. Then, now late Mato Trošelj came to my house and told me to run away, because Ustashas agreed with Italians to slaughter everyone in the village and that Italians won't interfere. Mato said this was true, because he translated for an Ustasha sergeant who didn't speak Italian during a conversation with the local Italian captain.
After he told me that, around 9am I pretended to go to the docks in Tribunj and hid in the bushes not far from the port and waited for the steamboat due at 2pm that I intended to take and escape to Zadar. Around 2pm I wanted to board the steamboat, but they didn't let me because I didn't have the pass. Together with me were my children Sonja (7) and Darko (6). When I realised I couldn't run away to Zadar in the steamboat, I ran away from the village with the children and hid in pits. On August 4, I found out that Ustashas locked up my father Joso Trošelj, son of late Ivan, because I had run away. The next day, on August 5, I went to Šibuljina and reported myself in together with children to the Ustashas. They immediately took the children and me to the Orthodox church, and released my father. When I came to the church I saw around 70 of women, old men and small children. They had been locked up there from August 2 in the afternoon. All of them were exhausted from hunger, thirst and heat, and I found out that many of them had been beaten, such as: Maksim Poljak, son of late Šime, Pilip Marinković, son of late Rade, Babac, son of late Jandrija, Gjure Babac, son of late Jandrija, Danica Poljak, Marko Poljak, son of late Trivun, Jovan Lukić, son of late Pilip. You could see on these men that they had been beaten, they were all covered in bruises, and Pilip Marinković had already lost his mind from all the blows to the head. They were beaten for allegedly receiving undeserved money from Serbian authorities during Yugoslavia. This was the excuse Ustashas used to justify the looting. I spent the night in the church with the rest of 70 people, and the next day, on August 6, they boarded us on a boat and transported to a small bay close to Karlobag where we spent the night. The next evening we boarded a motorboat and were transferred to the island of Pag and disembarked on Slana (near Pag town) where we spent two nights on rocks. The third day an Ustasha separated me and my children and took us to a camp where Jews were and we spent 14 days there. Then we were transported to Karlobag together with the Jews where they released the three of us.
During the time we spent in the church in Šibuljina, they tortured us with hunger and thirst, and we suffered from heat, because it was early August when it's the hottest, and the windows and doors of the church were completely closed. The sun was very hot and the church was small, so all of this made our lives unbearable. They would give some cheese to us older folk, but nothing else, so we starved all the time."
There is another telegram filled with hypocrisy which shows how little hope the persecuted people had.
The commander of the Italian Division RE reports on July 24, 1941 to his superior, the commander of the 6 Army Corps:
"Croats transport prisoners in boats from Karlobag to Pag, which has no conditions for a camp. You can hear occasional shots fired at people attempting to escape (document number 1/2-III, k.332, from the Institute of Military History in Belgrade).
Ustashas peacefully, under the protection of the fascist army of their "allies" prepared a freight ship which is going to wait for its time at the Šibuljina dock.
Pavle Babac:
"On Tuesday, August 5, 1941, at 7am, Ustashas took the prisoners from the church into the yard. They did a roll-call and explained to them they would be taken in a freight ship to "a safe place" to work. The path of 50 metres from the church to the ship they passed through a thick line of armed Ustashas. They boarded them in the lower deck and closed the trap doors leaving only small openings so the prisoners wouldn't suffocate. There was no wind, so they used an old engine which took a lot of time to start working. The passengers could barely see where they were going. It seemed to them they were going to Pag. The dull sound of the old engine disturbed the silence of the dumb and desolate Šibuljina.
Few remaining people from Šibuljine who managed to hide in mountain pits, were watching this in horror, listening to the sound of the engine until the ship disappeared in the distance.
In late morning the ship arrived into the small bay of the Slano peninsula. Armed guards took the prisoners towards the camp on a rocky road for about 800 metres, across a small hilltop to a flat area. In the yard the newcomers noticed some people and children wearing city clothes. They were well-dressed. They were Jews with their families. Around wooden barracks young city women were working, probably serving Ustashas as maids and for fondling. They did not allow people from Šibuljina to scatter. They were cornered into one part of the yard and were forbidden to move.
As in Jadovno before, the task was to prevent prisoners from thinking about their fate and the danger to their lives. On the other hand, they needed workforce to dig pits where the killed people would be thrown into. Ustasha guards chose around 20 strong people from Šibuljine, gave them tools from a pile and took them outside the camp due north-west. The others saw this as a good sign. They were used to work all their lives so this gave them hope that their lives will be spared. So that they wouldn't sit idly, Ustashas ordered them to take the remaining tools and straighten all the bumps in the yard. The children were playing on the turf without a care in the world.
Soon they got really worried when Ustashas took a large group of unknown families without tools to the same direction as the people before. Just before the sundown they heard automatic gunfire coming from quite a distance.
They stopped working in the yard, but Ustashas immediately started shouting: "What are you looking at! Come on, work! Did we bring you here to sit? You're surprised that our troops have firearms training!?"
Luckily, soon after the group of their people coming from work showed up at the camp gates. This eased their minds for a while, but they still thought about those prisoners who hadn't returned. One Ustasha said: "They were taken back to Karlobag, to be released home".
Suddenly, Ana Lukić along with her two children was separated from them and taken to the barracks. She spent there a couple of days with her son Davorin (3) and daughter Sonja (7). She was returned to Šibuljina under the excuse she was not born in Šibuljine, but in Trošelj and that she was Catholic.
Night came. There was no any light besides moonlight. There was silence in the camp. Tired children slept in the laps of their parents. The adults did not sleep. All of them wanted to find out what their people had been doing all day. They heard that the group had been digging long trenches, 10 metres in length, 2 metres wide and one metre deep. Guards told them that the trenches would be used as shelter for the troops in defence of the island, against potential English attack from the sea and that the firing was their soldiers being trained for that defence.
This was the last night for the people of Šibuljina. Many of them did not sleep. Thirst was torturing them. Amongst the people who didn't sleep was Todor Babac who reported himself to Ustashas in Šibuljina. He was lying next to his wife Smilja, holding their three-year old son in his arms. Nobody judged him for reporting. Everyone respected his noble gesture. His wife was happy he was next to her and the children. She felt that not even death would be difficult now that they were together. Todor often said in those days: "If they going to kill our children let them kill me too".
As soon the morning of Friday August 6, 1941 came, young women started to appear around the camp kitchen, fixing breakfast for the guards. On their serious faces one could see fatigue, fear and compassion. They knew that these were last moments of life for those poor people. Guards called the people from Šibuljina to gather next to the camp gates. They told them: "We were ordered to send you back home over Karlobag".
All villagers from Šibuljina and Divoselo were divided into four groups and around 7am and took them to the same direction they had taken the group of Jewish families without tools. When they walked over a small climb and started descending to a small vale they could see the pits that had been dug out. Each of the groups approached to one pit. "Get down, stand there and line up so we could measure how many people can fit there", the guards ordered. The groups were around 50 metres apart. All of them did obediently what they had been told.
In constant rush, they lined up their victims and then, after a usual signal, all of them started firing from their submachine guns on the men, women and children. People started screaming, shouting and rushing. Those who were calmer started jumping out of pits, but in vain. After half an hour there was dead silence.
Disregarding the cries of badly wounded people, the Ustashas took shovels and started covering up pits. They worked quickly, just as all murders do, in order to cover up traces of their crimes.
The people of Šibuljina were no more."
Today in the village of Tribanj there is an obelisk serving as a memorial bearing names of villagers from Šibuljine that had been taken to the Ustashas slaughterhouse. There are 94 names there. Some of them were killed on Velebit or in Jadovno. Most of them were taken to Slana. A plaque built into the door of the village church of St. Archangel tells their story:
"In summer 1941, inhabitant of villages Tribanj-Šibuljine were subjected to Ustasha savagery. This local church of St. Archangel Michael was turned into a torture and murder site of innocent villagers and people from other areas on their way to the infamous Ustasha camp on the island of Pag. In the memory and respect of the victims the Zadar Municipal Conference of the Socialist Union of Working People of Croatia placed this memorial on November 29, 1983."
We are giving you the list of arrested people from Babac's book
LIST OF INHABITANTS OF ŠIBULJINA TAKEN TO SLANA CAMP ON PAG ISLAND
-------------------------------------------------------------------------------------
Surname                        Name of father or husband      Forename
-------------------------------------------------------------------------------------
Babac                          Pavla                          Aleksa
Babac                          Alekse                         Jelena
Babac                          Alekse                         Anica
Babac                          Marka                          Marija
Babac                          Marka                          Dmitar
Babac                          Dmitra                         Petar
Babac                          Marka                          Andrija
Babac                          Andrije                        Todor
Babac                          Todora                         Smiljana
Babac                          Todora                         Đuro
Babac                          Andrije                        Nikola
Babac                          Andrije                        Đuro
Babac                          Andrije                        Dragica
Babac                          Todora                         Dušan
Lukić                          Filipa                         Jovan
Lukić                          Jovana                         Manda
Lukić                          Mile                           Ana (released from Slana
                                                              camp, with two children)
Lukić                          Mile                           Sonja
Lukić                          Mile                           Davorin
Marinković                     Nikole                         Božo
Marinković                     Nikole                         Nikola
Marinković                     Bože                           Ljubica
Marinković                     Vladete                        Milica
Marinković                     Luke                           Nikola
Marinković                     Nikole                         Bosiljka
Marinković                     Nikole                         Bogdan
Marinković                     Nikole                         Jovan
Marinković                     Jovana                         Božica
Marinković                     Rade                           Filip
Marinković                     Filipa                         Manda
Marinković                     Filipa                         Filip
Marinković                     Filipa                         Darinka
Marinković                     Darinke                        Radmila
Marinković                     Filipa                         Stoja
Marinković                     Nikole                         Marija
Marinković                     Mile                           Darinka
Marinković                     Rade                           Špiro
Marinković                     Jovana                         Marta
Marinković                     Jovana                         Nikola
Poljak                         Luke                           Anica
Poljak                         Luke                           Trivun
Poljak                         Trivuna                        Dmitar
Poljak                         Trivuna                        Dragica
Poljak                         Trivuna                        Danilo
Poljak                         Jovana                         Nikola
Poljak                         Nikole                         Jurka
Poljak                         Đure                           Luka
Poljak                         Đure                           Jovan
Poljak                         Đure                           Anica
Poljak                         Jovana                         Stoja
Poljak                         Alekse                         Đuro
Poljak                         Sime                           Maksim
Poljak                         Maksima                        Marta
Poljak                         Sime                           Luka
Poljak                         Luke                           Milica
Poljak                         Luke                           Lazo
Poljak                         Marka                          Pavica
Poljak                         Marka                          Đuro
Poljak                         Marka                          Marko
Poljak                         Marka                          Danica
Poljak                         Marka                          Jeka
Poljak                         Marka                          Mile
Poljak                         Mile                           Manda
Poljak                         Mile                           Ika
Poljak                         Đure                           Nikola
Poljak                         Nikole                         Manda
Poljak                         Nikole                         Todor
Poljak                         Todora                         Darinka
Poljak                         Todora                         Mile
Poljak                         Todora                         Milica
Poljak                         Todora                         Manda
Poljak                         Jovana                         Aleksa
Poljak                         Petra                          Jeka
Poljak                         Vase                           Ljubica
Poljak                         Vase                           Božica
Poljak                         Vase                           Nikola
Prodan                         Bože                           Ilija
Prodan                         Ilije                          Manda
Prodan                         Ilije                          Božo
Prodan                         Bože                           Baja
Prodan                         Save                           Lazo
Štrbo                          Alekse                         Petar
-------------------------------------------------------------------------------------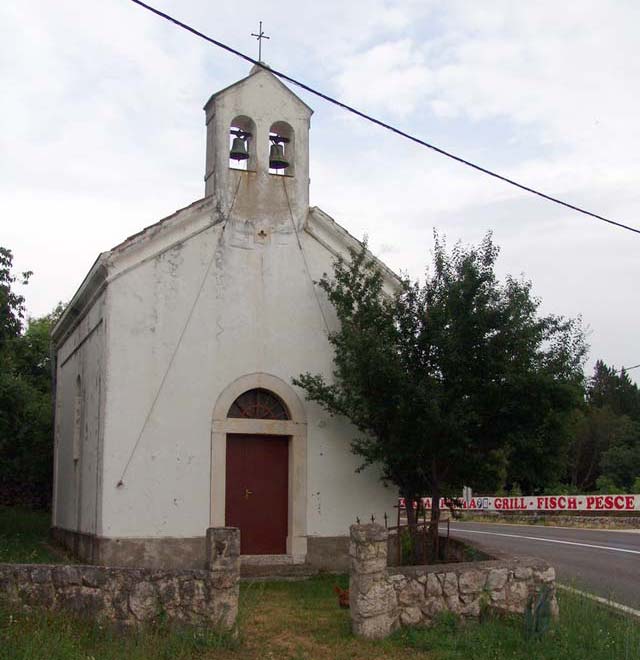 Pavle M. Babac – VELEBITSKO PODGORJE (1941 – 1945)
Individual killings – for sport
Dr. Radan: "… From our, Jewish camp, just individually, by arbitrary shooting of the guards, 50 to 70 people were killed during work, while passing by, when they "challenged" or "threatened" or just as an example."
"During the time when the guards were some people with fezzes, Ernest Brajner was killed for nothing, while they were simply playing with a gun and pointing it at him."
"When our group was taken to work, there was always a guard or two with us. For example, when we were carrying rocks, a guard would sit close to us. I remember one by the name of Mandekić. He would usually sit down, put his rifle on the lap and on his knee and point it at one of us. He would play with it and then fire. Sometimes he would deliberately shoot just next to someone's head, just for fun. And then he would tire of it and he would aim at the head. He would kill a man without moving from his spot. He wouldn't let us approach the murdered man. The dead man would stay lying there for the whole time until we came back from work. Then we would take him with us to the camp. I don't know who would bury him, or where, probably not far away. Somewhere you could find some earth for a shallow grave."
Killings were more frequent at the latrine since it was a bit far away from the barracks, around 50 metres, especially at night before the wire fence was finished. The latrine was built quite simply. A hole was dug and a beam was placed on top of it from one end to the other. In order to go to toilet you would have to sit on the beam. Sitting on the beam was especially dangerous at night. Ustashas would fire randomly over our heads. When they saw someone on the latrine they would practice shooting. Several times a man would be shot and fell into the pit and nobody would take him out. I know a man from our camp that went to the latrine and stayed in it. I don't know what it was like in the Serbian camp, but constant firing around their camp suggested it was the same. There was firing every night, both from rifles and machineguns. I couldn't say which of those were executions and which were just firing into the air. I suppose there hadn't been a lot of firing into the air. I believe that machinegun fire was always an execution."
When I asked Dr. Radan if he had ever seen local priest Don Ljubo Magaš in the camp, the witness remembered him clearly: "You could see priest Magaš in the camp every week. After his visits, just as after the visits of Zubović, you could feel more terror and killings in the camp. During his visits he would put on a green shirt in order to cover his white collar around the neck, but we knew him well because he was one of the most frequent guests. We heard that he personally killed and raped. I remember that during one of his visits we were putting up barbed wire around the camp. Our task was to put up one post in four hours. Later, when Magaš came, we had to put up one post in two hours. Amongst those rocks, with little strength we had left, we had to put up posts into the rock with our bare hands. It was a hellish work."
"I remember this Magaš from another event. At one end of the barracks was a small table with some handy materials such as medications. When Magaš saw medications on that board he mocked: 'Even in a camp Jews trade!' Nobody dared to say anything to the criminal."
Dr. Radan returned to this "casual" and "random" mass destruction several times during our conversation. One of his statements matches a record of the Italian medical group (Dr. Santo Stazzi) who claimed that the Italian medical team found a graveyard with around 50 victims near Suha, but this graveyard was left alone because it was deep enough and there was no threat of infection.
Deceptions by calling people to work
Dr. Radan: "Dijamantštajn was the only one who had the list of names (at least those from the initial group!). One day Maks Luburić took that list and stared calling out names. He got tired of it, or he could not read it clearly so he gave the list to Dijamantštajn to do the roll-call. But to him the reading also seemed long and he just picked out people from by himself. Maybe he did that to choose older men, because in the end it turned out all of them were old and weak. This happened one day around noon, as I recall. That afternoon we did not go to work. All the people who were chosen were told to take their things with them, saying that they would be taken to another camp to do different work. We were suspicious straight away. Two days later we found out they had been killed. The men that went to get the water for cooking the next day, while passing the administration building at the Suha beach, saw some rucksacks and clothes belonging to their comrades who had disappeared the day before. The group had around 50 people or more."
There were more of these "random" picks. Dr. Radan mentions the selection during which only man named Fusk was called out, and the rest volunteered, because they had been told they would do some other work and the inmates hoped for a better situation. On other occasion inmates were selected randomly: you, you, you…
The second statement by Dr. Radan is in accordance with the statement given on July 12, 1952 by Slavko Baljak, a butcher, before investigative authorities in Zadar. This statement confirms that inmates were taken to Velebit (Oštarija) and executed.
Slavko Baljak (about Ventura Baljak): "One day before we went to Velebit[17], Ventura Baljak gathered Ustashas. After he lined us up he picked by name around 20 to 25 Ustashas. Amongst them were: myself, Slavko Baljak, Jerko Fratrović, Bene Barić, Jadre Strika and Luka Barjašić. After that he told us to follow him to the camp. When we came to the camp he asked volunteers to go with him to do some work. I remember that a lot of inmates volunteered and he picked 50 to 60 of Jewish inmates, maybe more. There were both men and women amongst these inmates. Before leaving the camp he told them to take all their things and them we moved with them 300 to 400 metres from the camp. We stopped there and a couple of us Ustashas were guarding, and Ventura with several Ustashas took all their belongings, including watches, pens, rings and everything else they had. When these things were confiscated some of the Ustasha took the items to the camp into the warehouse. After that all inmates were told to lie on the ground and we, Ustashas were ordered to beat them with rifle butts. We were beating them for about 10 to 15 minutes: I, Slavko Baljak, Jerko Fratrović, Bene Barić, Jadre Strika and Luka Barjašić, and all others who were present. I saw that Živko Marinković, who died in the fight, broke his rifle[18]. We hit them wherever we wanted and whoever we wanted. After that we took them by a boat to Velebit where we killed them and threw them into pits…"
Now we are going to read the testimony of Jerko Fratrović given before a commission of State Security Administration (UDBA) in Zadar on November 11, 1952: "One day Ventura Baljak chose around 23 of us[19] Ustashas from Police and Visoko to take Jews on Velebit. Not far from the camp their belongings were taken. After that they were beaten with rifle butts, and then tied two by two with wire and taken to a boat. Slavko Baljak present here also participated in this. When we arrived to Velebit, Ventura called us Ustashas and ordered us that we should slaughter one Jew each and drink his blood. All of us who were present had to do that, and so did Slavko Baljak. I repeat, there were both men and women there…"
During a hearing ten days later, same Fratrović added something to his statement: "… When we arrived on Velebit, Ventura took two by two people to the pit together with some civilians who cut their throats and threw them into the pit. Ventura started cutting throats first and told me that we need to slaughter them in this way and drink their blood. Ventura called us one by to come to the slaughter. In the end everyone did it. Ventura then took a mallet and killed all that had left. A man who slaughtered the victim had to throw it into the pit. Ventura was standing next to the pit and made everyone drink blood…"
When Ustashas deceived them telling them they were going to work, tortured and resigned people would believe them. Dr. Radan describes this bit of hope which would come out of powerless resignation and appear as a way out.
Dr. Radan: "I would like to tell you about an event that happened…
… it might have been connected to something we could not know, maybe in connection to some sabotage in Zagreb, I don't know, maybe after the famous escape of communists from Kerestinac, but in mid July Ustashas asked that some of us report for work. They might have asked for fifty men, to allegedly start another camp. After first people reported, Ustasha told people related to them to volunteer as well or if they simply want to change the camp. Immediately more than fifty people reported, but Ustashas stopped it. I also volunteered to this new work. I was thinking: It can't be worse than here. There is nothing but death here for me. I might be luckier there. But another thing compelled me to volunteer. My friend Vilko Berger, with whom I slept huddled on the rocks, had a bowl that we shared and in which we had our food, because my bowl was stolen on the boat while we were arriving to Slana.
Vilko volunteered for this new work. I was thinking: He is leaving and I am staying. What will I use for food when he takes his bowl with him? That is when I volunteered. But when it was my turn they decided it was too many. I didn't go 'to work'. They were all killed and we never knew where. This Baljak's statement that they were killed in Oštarije was the first time I heard about what happened to them."
In order to explain how Ustashas considered killing a normal act, Dr. Radan again uses an example from his post-war investigative practice: "After the war I tried one Ustasha who was nicknamed Paralysis by Ustashas themselves.[20] He made it to the rank of captain. Before the war he was an assistant in the shop Omčikus in the Nikolić Street in Zagreb. He would choose a prisoner and put an apple on his head. He never hit the apple. With his own hand in the indictment he was given to read he wrote that he had killed at least several thousands of people by himself. He killed everywhere."
Famous people from Zagreb killed in SLANA
During a conversation about people he knew, families and friends that disappeared in SLANA, Dr. Radan recalls the husband and wife Pšerhof. He immediately started quoting statement by Nada Feuerreissen given in 1945 in Italy. He remembers her husband who was killed in SLANA, and remembers her being a beauty. Her maiden name was Müler. In Italy she got married to Dr. Đ.J., a dentist from Zagreb who later on opened a surgery in Rome. He got there interned by the Italians. His first wife died in internment. He had been a dentist in Rome until he died. In Rome he married Nada. After his death, long after the war, Nada moved with her daughter's in another Italian town.
Šime Borović from Novalja (Record from November 18, 1945, Rijeka Archives, 1376, Slana number 10): "… on the road I met Jure Kunkera, born in Novalja, who was working in Zagreb in Löwy Company, Svačić Sqare number 3, who told us that in August that year his boss gave him two large suitcases for his sons who were inmates in Slana. Kunkera also told me that in Karlobag he had met his relative Ante Kunkera (Ustasha camp officer in Novalja at the time, shot by partisans later), who had told him not to bring food for Löwy brothers since they are no longer alive, so Jure returned to Zagreb."
Here is a piece of information showing typical Ustasha cynicism. We said before that when 50 inmates reported for work, just one of them was called out first. It was Milan Fuks. Dr. Radan: "Milan Fuks had an illegitimate wife who was a milliner in the Marić Pass in Zagreb. She was the only one that got through to Slana and visited her boyfriend, although they were not married. Escorted by an Ustasha guard they were allowed to see each other for a couple of minutes just outside the fence. The roll-call was the next day. Fuks did not report, he was the only one called out, the first one! They killed them with the others, only a day or two after they had let him see his beloved."
"This was the only successful visit ever in SLANA. I don't count Ustashas, but family and friends. The only person to be released directly home was the son of Š.D. Aleksandar, owner of the Zagreb Brewery and Oil Factory. His name was Branko. He was requested by the Germans because they needed him as a technician in production. His father Š.D. Aleksandar was one of the richest men in Zagreb. His name was Šandor. He had three sons and two daughters. Besides the oil factory and brewery, he owned the only large building in the Kuković Street. In that building there was a charity institution by the name of PREHRANA (nourishment). This was the place where the paupers of Zagreb could get a hot meal. His eldest son Božo avoided camps, married to a Russian author by the name of Irina. They first lived in Switzerland and then in America. She visited Zagreb frequently after the war and was friends with authors Krleža and M. Matković. Her husband died and she now lives in Geneva and is still a friend of Yugoslavia. Branko, his second son, who spent time with me both in the grammar school and in SLANA, moved to America."
Documents say that family Milinov was also killed in Slana. They were the owners of "Hotel Dubrovnik" at the Republic Square in Zagreb. Ustashas tied the arms and legs of the father and mother Milinov. Next to them they put four stakes into the ground in a rectangle shape. They tied arms and legs of their daughter for the stakes and mass raped her in front of her parents. Then they killed all three of them.
Famous Banjanin family had a similar fate.
While we were silent for a minute or two, Dr. Radan's wife asked whim whether anyone had any hope of surviving.
"No, I hoped for nothing anymore. I was completely aware that I wouldn't get out of the camp alive. How could you stay alive when every moment someone is killed or disappears? You can't have your number drawn in lottery every time. One time it won't be drawn. I was more than aware of that, even when I was on my way back, in Gospić. It was particularly clear to me when they removed us from the yard where we were kept as returnees, so they didn't let us mix with the others. And finally they put us into a cell. Now what? It was over. And in that very cell my lucky number was drawn again. It was a mere coincidence that an Ustasha detective recognized Dr. Hohšteter who once treated his wife in Zagreb for free. It was just a coincidence. We had good cards. I will tell about it in more details, because it is very indicative for a condition of a man who had other people's fate in his hands!"
Did you ever meet someone good amongst them?
– Only once. I remember one of them, who approached to me and said that in Zagreb he used to work at "Kastner and Öhlera" in Ilica. When I was mixing mortar, down at Suha, he looked at me for a long time, got closer and asked a human question: "What on Earth have you Jews done to deserve this?" He was the only one to say a thing like that to me!
Mockery and murders
Dr. Radan often talks about the conditions in the Serbian camp: "All Serbs from the collection camps in Gospić, Jadovno and perhaps farther, from various villages under Velebit and somewhere else, were taken to Karlobag. As far as I know they were all brought to Karlobag on foot. Old and weak people were carried by their folk, and also boarded and disembarked from boats in the same way.
"I only saw Serbs or met with them during joint work, but at a distance. We were the closest while we were working on the road to Metajna. As we went to work in groups followed by guards, we never thought of getting closer to them, not even giving a secret signal. I have already told you how the guards treated us and what sort of power they had over our lives. But how they treated the Serbs cannot be described."
"For example, the commander I mentioned (they were all commanders to us), the one who hallucinated (according to his accent I think he was from Zagreb, but I'm not sure since he didn't spend a lot of time with us) when he would "make up" that two Serbs "attacked" him, before he would shoot them he mocked them and forced them to pray "who art on heaven". He would repeat that all the time and shout "who art, who art". He liked shouting these words from the Orthodox Christian prayer. Then he would order them shouting "come on, who art, who art" which was a prelude to shots. This is how people were murdered during work, individually, and this was the way they were killed in front of ranks of Serbs and Jews – with mockery and shots".
Witness Dr. Radan, who went through all horrors of Slana Camp, and horrors he saw every day, says that the most difficult and horrific conditions were in the Serbian camp:
"The Serbian camp was the most terrible that a person can think of. None of the Serbs, no matter what age, was allowed to stand up straight. They all had to squat so that guards could kick them in the head. People in the camp were mostly peasants from Lika, old men and boys who couldn't escape Ustashas. They had been exhausted just by coming to the camp, too week, beaten or old. There were also invalids. Judging by their clothes they were mostly paupers."
"We had roll-calls every day, especially the Serbs, in the morning and in the afternoon. As if you could run away somewhere! We were surrounded by five watchtowers, the area was flat land, we were surrounded by wire and there were guards patrolling. We couldn't go across the sea, and there was nowhere to go over the hill. Our strength was so poor to even withstand any escape attempt. We had meals once a day, just some water, and bread would be divided into ten or twelve parts. I don't know how the Serbs could take it, but they were better workers than us. This is somewhat understandable, because none of us ever before did manual labour, and most of them were peasants, skilled and resistant. But with food like that and under such treatment, it is very hard to describe.
"Guards were the same for them as for us, those who were deployed in bunkers around the camp. They would go with us during work and stayed with us for hours, shouted, hit us, terrorised, humiliated, threw rocks at us, played with their guns and killed."
SLANA pages cannot be closed
Whatever he mentioned about the conditions in the Jewish camp, Dr. Radan immediately noted that this was more horrifying in the Serbian camp.
Dr. Radan believes that children that were exhumed at Furnaža by the sanitary commission were Serbian children since they were together with their mothers. He does not know if they were brought from Metajna or came here directly and killed.
According to the testimony of Josip Balaž, who says he came to SLANA in a group of 500 inmates, and that he saw the same number in the Serbian camp in late July (July 28), we can conclude that the number of people in the Serbian camp did not increase much although people were constantly brought in until the very last day of this camp.
All these numbers from the camp can be deduced from realistic indicators (besides 791 people found at Furnaža, 20 at Karlobaški Malin, 2 next to the water spring, 1 by the dock and 53 on the left side of Suha bay, who were the only ones counted). All these numbers are results of the dark quest for truth, and now they are checked for the hundredth time by memories of old men who reluctantly recall those times.
How many victims went through the camp?
How many of them never reached it?
These are still the most difficult questions.
Let me say it again, these numbers that Radan and Balaž mentioned are only some current state at one point in time. We have no authentic statements about what was happening around the camp and how many people went through the camp unregistered, because none of the Serbs reported to us alive.
Some closer confirmations we received from the butchers themselves, who told us a lot, but let us be sure, hid many things hoping that they will never be discovered.
Despite all of this confirmed and indisputable evidence that we used to reconstruct this monstrosity that happened on the Pag barren land, we still cannot close the pages and we remain in debt on this narrow path of discovery following the steps of criminals.
Instead of numbers, we gave the reader, as much as we could, an image of conditions there from which each reasonable person can draw conclusions and lessons.
I would like to thank in advance to everyone who will help us in our further quest.
Grievous conversation about the return
At this point, my conversationalist and I, in the presence of his wife Stefanija, started talking about the return. We would gladly talk about it if it was not so filled with misery just as the arrival and stay at SLANA was.
"During last day at work nobody was paying attention about what sort of work is done. We suspected something was happening and gave signals to each other about the changes that surprised us. We were putting new wire around the posts, but we were not particularly forced. We did not dare to talk or whisper during work since we had too much bitter experience. During work or during Sunday bathing and washing there was always a guard with us listening to what we were saying. For example, when the barracks came down on us during the storm at nigh, we were talking how we should inform our families in Zagreb that we were still alive. Ustashas were listening to that and the next day all people who spoke more openly about it were gone. In the future we whispered even in the barracks, usually just exchanged our thoughts, while in fact we did not have the will to talk about anything. Only in those last days of August we sort of suspected something from their behaviour, so we whispered some words in hope. It was visible that the discipline was not so strong amongst Ustashas. Next to the posts, while we were nailing the wire, huddled next to each other, we would whisper a comforting word."
"As I said before, I was taken from SLANA around August 20, 1941, but it could have been August 15. I am not sure since I had already started loosing all notions of time. If I had been sent directly to Zagreb I would have remembered the date.
But we were first sent to Gospić, to the prison yard and then put into cells. You could not tell what was day and what night, what was real and what imagination. I cannot say what the date was. I only know that when I left some people stayed at the camp and I never heard from them alive. I knew them, I especially knew all the older people from the Masonic Lodge in Zagreb. They were alive when I left. None of them were returned to Zagreb. They were killed during the last days, after I had left."[21]
Released because of so-called mixed marriage
"My wife was Aryan, with good connections. It is understandable that she paid well to Ustashas in Zagreb, to some Ustashas who had more influence in this case. She was persistent and lucky. She was the only one who did it. She referred to a new regulation, a law or something, which Pavelić had to enforce when pressured by the Vatican, i.e. after an intervention by Papal Legate Marconi. According to that law Jewish men who were married to a Catholic woman were not to be persecuted anymore. This saved me, or rather made room for interventions of the people she bribed.
I was returning to Zagreb from SLANA via Karlobag with another two inmates. One of them was engineer Brajković, whom I mentioned, and the other was a man from Karlovac, I don't remember his name or why was he released.
On that lucky morning, Dijamantštajn came to get us and told us to take all our things. From that moment, until we got home, which was not soon, I constantly thought we were taken to our death.
An Ustasha guard took us to the port in Baška Slana, where there was a freight ship, one of those that brought us here. Sailors were civilians with Ustasha hats with the letter U. I felt hope here for a moment, I was encouraged when a sailor offered me a couple of cigarettes. I knew they were not Ustashas, but owners of the ship. But our experience with them was not joyful since they robbed the inmates just as Ustashas did. Maybe not all of them, but the ones I met were not different from Ustashas. I sailed with them twice, first time from Karlobag to SLANA when they seemed to be just ordinary robbers, and now when I was coming back and when I had nothing to be robbed. Now they offered me cigarettes. I was grateful for this encouragement.
In Karlobag they put us into some prison. Here we were approached by a local man (or perhaps more of them, I don't recall) and they gave us bread and fried meat. I will never forget this human generosity."
Deus ex machina
"Gospić, our stop on the way back, gave us no hope" I don't believe that anything would have worked because of "regulations" and "law". Together with me to Gospić arrived Dr. Bela Hohšteter, gynaecologist from Zagreb[22], husband of actress Ervina Dragman, and a Jew from Sarajevo named Finci. He was supposed to be transferred to Sarajevo via Zagreb. He kept singing "When I went to Bembaša" (a Bosnian song). These two were brought to Jadovno. We were held in the prison yard, outside and we would lie there. There were always some new people in the yard so we were never alone. They mostly brought in Serbs. We were hoping that we were just passing by and that we would be sent forward as soon as possible."
"Next to the prison was the court building. Italian soldiers were located inside. They would throw bread and other things to the prisoners in the yard. Ustashas tried to prevent that and were beating the prisoners who tried to get that food. But it is hard to prevent a hungry man to rush for bread.
In this yard I also met a group of communists. There were also Kavurić brothers. Stjepko was a close relative to my wife and through him I had contact with communists in Zagreb. Zvonko, an architect, the father of Zagreb painter Nives, and his brother Ivica had nothing on them, and I got hold of some waterproof cloak. I gave them the cloak, hoping I would be released. Their end was terrible.
We spent around twenty days in the yard and then they moved us into a prison cell. This is where we lost all hope. There were two peasants with us in the cell, Orthodox Christians from Macedonia. I don't remember how they got there.
From the hallway there would be always some Ustasha gendarmes or policemen looking at us, maybe looking for someone they could recognise.
Now, a small miracle happened: There was a little man standing at the door looking at us for a long time, especially at Dr. Bela Hohšteter. We were scared to death. We could hear every night how Ustasha took people from their cells. They would take them downstairs and beat them up, and return them to the cell half dead. Now this man was looking at us, what could we hope for!
Suddenly, this little man started talking to Dr. Hohšteter: "I am detective Devčić, and you are Dr. Bela Hohšteter, a doctor from Zagreb. In Zagreb you are the best of all the doctors and the best of men. You treated my wife and did not take a penny for it". Dr. Bela was scared at first, and then he realised what was going on and told him that we were on our way to Zagreb and that we didn't know why we had not been released yet. Bela used all his communication skills and Ustasha promised he would come and get us tomorrow. You know, we didn't believe him because Ustashas would lie even if they said nothing. I also remembered seeing that little man in Zagreb cafes. He would go through cafes and sell some rubber toys, monkeys and the like, and made his living from that. Now he was in civilian clothes but had the Ustasha hat and told us he was a detective. In order to show us how powerful he was he picked us the next day and took us for a dinner and ordered lamb. When we got back to our cell we got such terrible diarrhoea that we never thought about lamb anymore. But it was not for him we would have never gotten out. This little man did for us everything he could and the result was evident. In the evening of the same day he came to us accompanied by a guard, picked us up and took us straight to the station. Escorted by that very guard, a young peasant, we arrived to Zagreb. From the station he took us to the Vojnović Street where the Jewish Section was. From there we were released home. But poor Finci was supposed to be transported to Sarajevo and he was held in a prison cell. The next day Ustashas were supposed to shoot a number of hostages. As he was in the same cell with the hostages he got shoot together with them."
A necessary step backwards
The visible and palpable evidence of the work that inmates did in the short period of two months proves that there were a lot of them there. This hard labour was done only by men, so we do not count women and children. Breaking off large pieces of rock with primitive or no tools but bare hands, carrying that rock while walking barefoot over similar rough rocks to the place where it would be used, build several walls and supports in that way, flatten the road to Baška Slana over the whole of SLANA to the rocky end that joins the landscape around the hill on the road to Metajna, cutting rock and carving it to build the administration building, watchtowers, carving two bollards in Suha, digging wells, latrines and long trenches to bury hundreds of murdered people – someone had to dig, but who? – adjusting coastlines in both bays, planning and flattening the base for barracks, never-ending transport of material from ships (and back if necessary), digging in posts around both camps separately and surrounding them with several lines of barbed wire, production of gravel which was used to flatten the ground in the camp, road and paths leading to watchtowers… We need to say that the efficiency of an exhausted man is at the lowest level and such enormous work could be finished only by additional exhaustion of nearly dead people, but also by adding new workforce.
Even now, half a century after that misfortunate summer on Pag, when only the most solid structures survived the test of time, everyone who looks at this sturdy stone monument, which has grown into the landscape despite the elements, finds it obvious, just as I do, that numerous hands have built in their own deaths here.
Besides Josip Datković, born in Metajna, an Ustasha guard at the time, and other guards and witnesses, we get information on number of people from our famous inmate Nada Feuereissen: "… There were around 600 women and 78 children located in SLANA camp". She did not write that down herself, but rather the person she told that to. Nada probably talked about SLANA as a compound, and did not mention the female part of the camp, Metajna. This is probably so since Dr. Radan firmly claims that he had never seen any women or children in SLANA camp, neither Jewish nor Serbian. This would clarify this contradictory information. If this was not so, then the only explanation would be that the women and children were moved to the SLANA area during the last days of the camp. Dr. Radan is not against this theory, because he left SLANA earlier so he could not have seen that.
To all 678 women and children we need to add those 20 or so technicians led by Dijamantštajn. From all of them there were only 200 to 250 alive in Gospić where they were seen at the station. The men (Jews, twenty of them via Jaska) arrived later to Krapje, Jasenovac, while women were sent to Krušica near Travnik (Bosnia). What happened to the rest of 430 or so people? Does anybody know? They are probably at the same place where everyone else from the Serbian camp is, those who were alive on the day of an emergency liquidation of the camp, just as those who had been disappearing during previous two months. All of them are a part of an unclear number under the word CRIME.
Search for unknown graves
Northwest from Baška Slana, rises a piece of land with more earth than the neighbouring areas. This is the softest soil in the area. I am quite unclear, to the point of disbelief, that Ustashas did not choose this terrain to slaughter their victims but took them to a distant Furnaža where there was little soil and where people had to dig out rocks. How come they did not chose to bury them here, where it is close and convenient and yet hidden from potential views from SLANA?
From this question I draw a somewhat unclear conclusion: a part of mass victims that disappeared over time, god knows where, could have been buried in this area along this peace of land, and when there was no more room, then Ustashas chose Furnaža and Velebit (Oštarije, Jadovno and other).
We should not forget the words of criminal Orešković that he said during a hearing in 1942: "… while drunk, together with my mates I raped some Jewish girls and then we killed them". They killed whenever they wanted and wherever they wanted, and they also buried them wherever they wanted. I was not too difficult for them to bring them here from Metajna, whether alive or dead, and then bury them without SLANA inmates never noticing. The whole area of SLANA and Furnaža is one large graveyard.
In a photograph of Suha taken by Italians in those days, there are two arrows drawn. They show graveyards that Italians discovered and marked and which we still did not examined. In the Italian report, Dr. Stazzi mentions another graveyard with around 50 people buried, which matches the statement of Dr. Radan in which remembers a group of 50 people that went missing without a trace (ultraviolet imaging from air would discover each location of the buried people, just as it did in Jasenovac).
Ustashas to some extent hid mass murders and graves in front of inmates, but not always. Maybe not in the last days! In October and November 1941, when I visited this area with a group of my fellow islanders, we could see freshly dug earth everywhere, along the paths, beaches and over hilltops and even in the camp itself. In order to confirm those were graves and not something else, we decided to dig one out. Along with me present were: Ivan Festini – Madona, Fabijan Oguić – Fabić, Ante Rakamarić – Belota, Ranko Fabijanić – Kabanica (Raincoat), Ante Fabijanić – Parmatijo, Šime Šavar and others. As soon as we removed some earth we found a board. When we removed it, beneath was a fresh corpse of a tall man in a long blue jacket, similar to what sailors wear. On his feet he had torn heavy boots. The corpse was reeking strongly and sirocco was blowing. We immediately covered it up to prevent diseases from spreading. We removed some earth on another two places, but as soon as we smelt the stench of a corpse we covered it up.
Earth that is dug out here is visible for a long time. If earth is dug out on a flat land it could stay like that for centuries because there is nothing to disturb it. But if it is on a sloped terrain, than rain delves into it and water removes everything it finds, even small rocks, gravel and even smaller metal objects if they happen to be there.
Furnaža today
It is water that had devastating effects on graves on Frunaža (it has been 40 years!). As Italians were digging out victims from the graves, water not only removed earth taking it down the slope and flattened the contours of initial graves to an extent, but it also removed "small items" from the graveyard. From that site there is around 300 metres of a steep slope. I remember walking there just after the liberation and climbing up this earthy gully, every few steps I found small items that water brought here and even all the way to the beach. From the bottom up, from the beach to the graves and at the slaughter site, I collected a handful of incompletely burnt human bones, some small spoons (children's?), rubber heals of "Palma" brand, buttons from women's shirts, teeth, pieces of eye glasses, combs, hairpins, belt buckles, cigarette mouthpieces…
The Italians probably covered burnt bones and ash from pyres with some earth. Maybe some of it was preserved somewhere on the sides of the gully? For us all is gone except for that handful of bones that I took with me together with few items I found and some barbed wire from the camp, more out of piety than for a potential museum.
Later, equally out of piety, my friend Dr. Radmilo Tomin, a surgeon from Belgrade, tried to collect some bones when he came for a visit. He followed the same gully as I had ten years before. He found very little, buried some and took some with him to Belgrade.
Later, I climbed that track dozens of times (south from the Malin spring). People conducting transport at the time, claimed that this track was the path for the murder site. It seems logical since ships were able to dock at this beach and it was the closes to the graveyard. I never found anything after the first time. That does not mean you would not find something if you started to dig. But I do not come here anymore to collect items. This area lures me because the impression it has on me and the proof it holds what a man can do to another! It is such a cruel and silent area, desolate rocky plateau, where you can only think how short and pointless life is. This is a place where daily and common discussions on laws, borders and systems vanish as ridiculous and unnecessary. You turn into the most tolerant creature on Earth, a man united with rocks under your feet and sky above your head. It seems there is nothing else and it should not be! And really, there is nothing alive there save a snail or two, a large rocky grey snail the islanders call "brdar", which slithers lonely amongst the cracks.
Before this book went into print, in September 1988, I again went to Furnaža, walking alone for several hours, looking for places marked in the Italian document that talks about graves around Karlobaški Malin (or Karlobaška Furnaža), on the other, north-east side of the cape. The terrain there is even crueler and everybody who goes there returns exhausted, firmly deciding he would not go there again. After the whole day of walking and looking into every creek, vales and waterbeds I could not make a single conclusion regarding the graves. Each of the piles of earth amongst the rocks could be a grave (or a graveyard), just as many of them are. But for which one could we say that it was the one who was not dug out by the occupying soldiers? Can we be sure that their guide at the time, probably Ivo Bilić Duje, the lighthouse keeper, who took them from one pit to another, found all graves or just those shallow ones that reeked, and never found the others?
The whole area of Furnaža, all the way to the lighthouse needs to be examined thoroughly. We know very little, because we only got statements on transported inmates from brothers Maržić whose ship was used. But what were other boat and ship captains doing and how many people they transported and where?
According to his assessment, Šime Maržić, son of Brno, who transported the prisoners the whole time in his ship "St. Josip", and who should be our most reliable witness, claims that the number of people transported to the island was around 15000. He draws this conclusion by simply calculating how many people could be boarded on each ship and boat, taking into consideration that not all of them were transporting people all the time. An average number. The frequency of transports that he remembers assures him that the number he presented is correct, and I reluctantly talk about numbers. Most of those people remain at Furnaža itself or in the sea around it. What Furnaža has to say now can only be read by infrared beams.
Numbers from Italian associates
From all of us inhabitants of Pag at the time who were at some point invited to talk about the number of SLANA victims, it seems to me that the most reliable is a document written by Marko Paro Vidolin – Kiža. As an unfortunate representative of Italian authorities on Pag at the time and their every-day associate, Kižo had contact with Italian military and political authorities even during private conversations. Although Italians treacherously "did not interfere" in Ustashas activities in SLANA, they certainly had heated discussions about it, trying to incorporate their political combinations and gain something from it, especially fascists.
I spoke with Kižo about that several times, as a friend of his family, trying to find out what I was interested at the time. Kižo died later on in an Ustasha prison in Zagreb, after he had been arrested as our aid in 1943).
Italians had a really good intelligence service in this coastal area, such as "Uffizio Signalazioni" and they received information on transport of prisoners from several sources. Based on that information they knew better than anyone on the island what could be the accurate number of people. Eight to fifteen thousand is the number that Kižo mentions to Captain Vincento Massimi from 309 Battalion in Moščenice and which is the most realistic, although the range from the lower to higher number is quite great.
The quotation that refers to these numbers is the following: … there are estimates that over 8000 people were killed and thrown into pits. Along with that, there are rumours of another 15000 people being killed and thrown into the sea with rocks tied to them…"
In those days when there were horrific and true stories being whispered amongst people, Kižo may have exaggerated. It is understandable, but it does not mean that he did! He maybe did not speak only about SLANA, but generally about crimes happening here in Pag and in the surrounding areas (Jadovno, Gospić), about killings that could be only confirmed after the war and which happened between Velebit and Pag, from Jadovno to Slana. But we do not have the exact number even for such a small area!
Let us not forget that Kižo was a merchant just as hauliers Maržić were, who also were friends with Kižo and had close contacts. As an Italian intelligence operative, Kižo was at the very source of everything that Maržić families could not keep quiet about in front of any man, let alone a family friend whom they probably desperately needed. So Kižo could find out anything about Slana from them even if he had not had any other sources. And so we, his friends, would get information from the same source.
In any case, the testimony of this man close to Italian intelligence at the time, is a solid evidence that there had been a lot of people and that a great crime happened on, until then, quiet and peaceful Pag.
There is yet another piece of evidence that Italians were familiar with what was happening: Kižo did not write this report after some time had passed. He wrote it because he was scared of Ustashas, as an Italian supporter, when he found out that in the new Ustasha – Italian agreement Pag will not be under the control of "mother" Italia, as Italians had hoped! So he wrote it in September or early October 1941, with still fresh memories of the Ustasha slaughter.
Small number of people returned
The County War Crimes Commission for Croatian Coast, who was dealing with SLANA camp in 1947, still did not have this Kižo's report. The Commission relied on the opinion of the County Commission for Lika who, based on their investigation, carefully assumes that at least 6000 prisoners were taken to Pag. Even if this number is, due to caution, smaller than the real one, it is still a large number of misfortunate people who went into their death.
Data on the number of people returned from the island in August 1941 stated by this Commission – around 400 both from Pag and Jadovno – is very close to reality for me, because it is the number of people I personally saw at the Gospić train station when they were being transported inland.
Surviving inmate Dr. Radan claims that there were 200 to 250 people who had returned from Pag (Slana and Metajna) to Gospić, which confirms numbers stated by the Commission who claims there had been 400 people together with those from Jadovno.
I repeat that from here only men were sent to Jasenovac. Women were transported to Kruščica near Travnik via Slavonski Brod, Bosanski Brod and Fes. From there they were deported to Auschwitz via Lobor-Grad and then disappeared.
[16] Orthodox holiday, St. Ilija
[17] It means that this happened just before the camp was closed, and also women are mentioned which is another proof of the date. It is strange and something new this warehouse he mentions. Where is it? In which camp? Maybe it was one of the small barracks next to the administration building in Suha or one of the mysterious dry wall buildings in Baška Slana. They were beaten 300 to 400 metres from the Jewish camp, he says. There is less distance to Baška Slana . Where was it? Maybe on the Karlobaška Furnaža? Everything is mysterious.
[18] So one of them resisted, killed the Ustasha and then got killed himself.
[19] This was probably a different group or on another occasion. They continued "taking people to work".
[20] Dragutin Pudić, called Paralysis, participated in the final liquidation of Jasenovac. In the mean time he was in a psychiatric hospital in Vrapče.
[21] According to Zlatko Vajler's testimony, the camp could have lasted until August 21.
[22] Dr. Ela Hohšteter: "… In late July I was released from the camp (Jadovno) and transfered to a prison in Gospić from where I was supposed to return home. I spent around ten days in the prison in Gospić, but since I was not a prisoner, I was often allowed to go into town…" statement from April 12, 1958 in Zagreb, "Jewish Museum" Belgrade, number 1375.